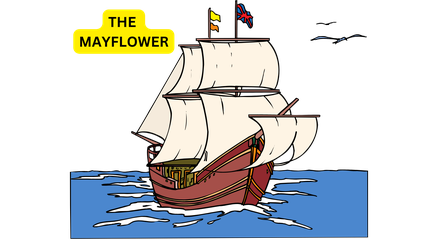 BASICS
In 1620, the Mayflower sailed from England across the Atlantic Ocean.
102 men, women, and children were on board of the ship.
They wanted to start a new life.
Two months later, the ship reached North America.
Here, the people built houses.
Some religious people were later called the Pilgrims.
They thanked God and the native people who helped them to survive.
They called that celebration Thanksgiving.
THE CHALLENGE
Build a ship to bring the 102 people from England to North America.
The ship needs to float on water for one minute (!).
102 single Cents represents the passengers.
Your ship must hold the Cents without sinking.
HOW TO DO IT
Use the material I give you.
Make your model as close to the original as possible!